January 5th, 2012 — 10:25pm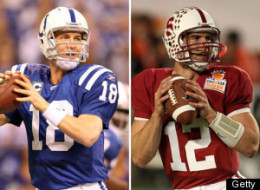 As a Colts fan since the Harbaugh days, I remember the last time the Colts had the number 1 pick. The decision then, however, was much different. Indianapolis was definitely drafting and keeping a QB, it was just a matter of who: Peyton Manning or Ryan Leaf. Bill Polian made the right choice and the Colts have benefited with one of the best sustained runs of excellence in NFL history.
Now, the Polian era has ended and his replacement will decide if the Manning era has ended as well. It's a much different decision than the one 14 years ago. Let's lay out the particulars of this Colts decision:
Peyton Manning–arguably the best QB in NFL history–has missed the season after his 2nd and 3rd neck surgeries in 2 years and will be 36 next season.
Manning is due a large bonus before next season, so the Colts have a decision to make this offseason about cutting or keeping him.
The Colts have the #1 pick, and this year's draft features Andrew Luck who many consider the best QB prospect since Peyton Manning himself or John Elway.
The NFL instituted a slotting system for the draft starting last year. Cam Newton, the 2011 top overall pick, made less than half of 2010 #1 pick Sam Bradford. This makes the #1 pick even more valuable.
As I see it, the Colts have three choices: (1) keep Peyton Manning and trade the pick, (2) draft Andrew Luck and trade or cut Peyton Manning, or (3) keep both Peyton Manning and Andrew Luck. Let's start with #3: Continue reading »
4 comments » | decision making, Football, player evaluation, team evaluation