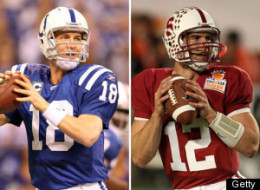 As a Colts fan since the Harbaugh days, I remember the last time the Colts had the number 1 pick. The decision then, however, was much different. Indianapolis was definitely drafting and keeping a QB, it was just a matter of who: Peyton Manning or Ryan Leaf. Bill Polian made the right choice and the Colts have benefited with one of the best sustained runs of excellence in NFL history.
Now, the Polian era has ended and his replacement will decide if the Manning era has ended as well. It's a much different decision than the one 14 years ago. Let's lay out the particulars of this Colts decision:
Peyton Manning–arguably the best QB in NFL history–has missed the season after his 2nd and 3rd neck surgeries in 2 years and will be 36 next season.
Manning is due a large bonus before next season, so the Colts have a decision to make this offseason about cutting or keeping him.
The Colts have the #1 pick, and this year's draft features Andrew Luck who many consider the best QB prospect since Peyton Manning himself or John Elway.
The NFL instituted a slotting system for the draft starting last year. Cam Newton, the 2011 top overall pick, made less than half of 2010 #1 pick Sam Bradford. This makes the #1 pick even more valuable.
As I see it, the Colts have three choices: (1) keep Peyton Manning and trade the pick, (2) draft Andrew Luck and trade or cut Peyton Manning, or (3) keep both Peyton Manning and Andrew Luck. Let's start with #3:
Should the Colts keep both Peyton and Luck?
The quick answer: No. And here's why.
Let's say Peyton Manning has 4 good years left. That's 4 years of Luck sitting on the bench. So the Colts roster has, say, 12 wins (or whatever unit you want to use) of total talent. And let's say, for argument's sake, that Peyton and Luck are each worth 2 wins. It doesn't matter what these numbers are, just that both Peyton and Luck represent a significant portion. And obviously, both of them cannot play at the same time, so the realized talent will only be 10 wins. Trading Luck for upgrades at other positions, however, would allow you to realize those 2 wins of value on the field. For those visual learners out there like me, it might look something like this:
By not trading one of the two, the Colts are essentially playing short-handed. Would the Patriots trade Wes Welker and Vince Wilfork for a backup QB? Obviously not, as that player will never see the field with Tom Brady around.
Besides the position argument, another reason that Peyton and Luck don't make sense is the timing. If Peyton Manning is your quarterback, you are trying to win now and you want players that can help you do that. Conversely, if you go with Andrew Luck, you want young players that can grow with your QB and peak a couple years down the road when you're ready to compete. Peyton Manning doesn't help you do that and should be traded for picks and young players who do.
Keeping both does have the benefit of solidifying your QB position for 15+ years. Would you rather have 4 years of Peyton Manning and 10 years of whatever you can find after Peyton, or 4 years of Peyton Manning and 10 years of Andrew Luck? Clearly most people would bet on Andrew Luck being better than whatever else the Colts would be able to do after Peyton Manning retired (likely an average or below average QB). However, as a franchise, if your goal is to win championships, you are better off condensing your value into fewer years as opposed to stretching it out over many seasons. If you have a choice between having one great team and one poor team or having two average teams, you want the first choice. The relationship between wins and championship odds is not linear, instead it looks something like this where each "win" of talent you add increases your championship odds more than the previous win:
The horizontal axis represents the true talent of the team, and the vertical axis represents the championship odds for that talent level. Improving your team from, say, a true* 8-win team to a 10-win team is worth more than improving a 6-win team to an 8-win team. (*When I say "true" talent, I mean a team's actual strength. For instance, Denver went 8-8 this season but might be more like a true 6-win team that got lucky. The Eagles, however, went 8-8, but are more like a true 10-win team that got unlucky.)
If the Colts keep both QBs, they are facing two problems hurting the prospects of their franchise. First, the two players can't play at the same time, meaning one of them is rotting on the bench while both are on the roster. Second, their windows don't line up: one is ready to win now while the other will peak in a few years. Luckily for the Colts, they can correct both issues in one fell swoop. The question now is: which QB should they keep?
Peyton or Luck?
So if you accept my argument that keeping both QBs is not the correct answer, there is still the decision about which one they should keep. Let's take them one by one.
Drafting Andrew Luck gives the Colts one of the best QB prospects of all time. Should he be successful, it is likely he will stay with the Colts for a long time. With the new rookie wage scale, his early years will not be cost-prohibitive and he would certainly be cheaper than Manning. So the Colts would get a young, talented, and cheap (at least early on) QB for the next 10-15 years. That's pretty good.
However, as highly touted as Luck is, he still comes with a healthy dose of risk. The top 10 of the draft is littered with QB busts. Even given his elevated pedigree, expecting Luck to be the next Peyton Manning or John Elway is absurd. In reality, the Colts should expect production more along the lines of Carson Palmer, Matt Hasselbeck, Matt Schaub, etc. Maybe you get Peyton Manning 2.0 and maybe you get Tim Couch, but the expected return should be somewhere in the middle. Those are good quarterbacks and nothing to scoff at, but expecting greatness is overly optimistic.
On the other side is Manning. He has just a few years left–if healthy. And that's a big if. He's expensive as well, allowing for less money to fill out the roster around him. However, if he plays he's an elite QB–arguably the best at his position and almost assuredly top 5. Is it enough to offset the longer career of Luck?
One mistake is to say that the decision comes down to 15 years of Luck versus 4 years of Peyton. The decision really comes down to 15 years of Luck versus 4 years of Peyton and 11 years of somebody else. That QB may not be as good as Andrew Luck, but the Colts get to put somebody under center.
So I'm taking Peyton Manning. Give me a few years of greatness from–in my opinion–the best quarterback in the history of the game. Restarting with Luck is enticing, and if he turns into Aaron Rodgers it will be a mistake to let him go. But the odds of that are small, while Peyton is clearly already there. Trade Luck–who is immensely valuable to teams in need of a QB–and fill in the roster around Peyton for one more surge.
Conclusion
If you think Luck is better than I am giving him credit for, take him and cut or trade Peyton, re-build the team around the youngster. For my money, I'm taking 4-5 years of elite QB play and hopefully a couple more shots at the Super Bowl, and I'd want to make those few shots as good as they could possibly be.  Just whatever you do, please don't handicap both quarterbacks by keeping both of them around.