September 4th, 2011 — 8:45pm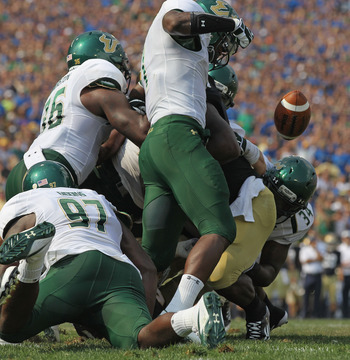 Our first big day of football is under our belt, and one of the storylines from yesterday was turnovers, specifically fumbles. Oregon lost 3 fumbles in their loss to #4 Georgia. Two of Notre Dame's 5 turnovers were lost fumbles, including a backbreaking fumble on 3rd and 1 from the USF 1 yard line that was returned the length of the field for a TD. I tweeted that that fumble alone was worth an 11.2-point swing in USF's favor (for those curious, the start of the play [3rd and Goal at the 1] is worth about 4.9 expected points, and the end of the play [a USF TD] is worth -6.3 points for a total swing of 11.2 points). Clearly ND's running back Jonas Gray was fighting as hard as he could to get the TD, but was stood up by 5 defenders and eventually stripped of the ball. The result was disastrous for the Irish.
When considering whether to fight for the extra yard, there are two main trade-offs: fumbles and injuries. Going down or out of bounds as opposed to battling one or more defenders would decrease the likelihood of a fumble as well as save the runner's body from both acute injury and repetitive wear and tear. In this post, I'm going to consider only the trade-off of the extra yard versus the risk of fumbling. The example above represents one of the biggest risk-reward situations in this area, where success means a TD and a fumble is extra costly. Other areas to consider: going for a 1st down, yards inside the 1st down marker, and yards after a 1st down has been gained.